GOV.UK (2016-present)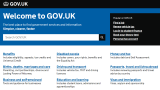 I improved the accessibility of so-called Smart Answers (a set of pages which ask a couple of questions to find an answer, basically walking you through a decision tree, written in Ruby on Rails).
I improved the editing experience, design and accessibility of financial tables in the HTML versions of Budgets.
I tested components within GOV.UK Elements, a front-end framework and styleguide for government services, for potential barriers and accessibility issues and fixed them.
I developed setups for personas with access needs, mini training and a testing methodology for them to make accessibility more approachable.
I develop and provide accessibility training.
I consult and help other teams make new patterns more accessible.
I irregularly blog about various accessibility work.